A car will be among the most important things you'll ever buy – not to mention, potentially one of the most expensive.
Whether you choose new or used, buying a car is a big decision that will affect your finances for years to come.
If you need help financing for a car, there are a range of options available to you. But be sure to remember, as with any loan, you're still liable for taking on the debt and should be sure you can comfortably afford to make repayments.
What you'll learn –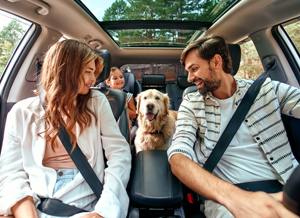 Car Loans
Looking to upgrade your car to something a little bigger, or are you looking for something more economical? Spread the cost with a car loan from Norton Finance.
Can I buy a car with a loan?
Yes, you can buy a car with a loan. If you aren't in a position to pay cash for your car, it is still possible for you to raise the funds by getting a loan for your car.
There are various options available when it comes to car loans in the UK, but you should keep in mind the size of this financial commitment. You should only borrow what you can afford to repay – including any interest charges added to your repayments.
First, you need to understand the different finance options available to you. Then, it's time to decide which option best suits your personal financial situation.
Car financing options
There are two main ways of raising funds to buy a car. The first is taking out specific car loan finance, and the second is taking out a personal loan – which could include a credit card loan.
Personal loan
You might choose to finance your car purchase with a personal car loan. This is money borrowed from a lender, such as a bank or loan company. You can use the borrowed money to buy the car up front, though you'll then have to pay back the lender at your agreed rate.
How does it work?
If you have a good credit rating, you should be able to get a good deal on a car loan. You can arrange for a loan over the phone, online or face to face at your bank or building society – they will usually offer more competitive rates than a dealership. You can then use the loan to purchase your car outright, making you the owner of the vehicle.
You should always look at the total amount you'll owe the lender, including interest, and how long you can expect to make repayments, to ensure you get a deal you can afford.
If you have experienced trouble getting credit in the past, due to bad credit, you could be better off getting a homeowner loan. This is secured against your property, so you could get a better interest rate, but your home may be repossessed if you miss any repayments. On the other hand, if you budget carefully and don't miss any payments, it could actually improve your credit score.
Unsecured loans aren't secured to your home. But they usually come with higher interest rates and shorter repayment periods.
Pros of a Personal Loan
Quick access to finances to buy the car upfront.
You own your vehicle outright.
You could secure a reasonable interest rate if you have a good credit rating.
There's a wide range of loans on the market, making it easier to find one that suits your budget.
Cons of a Personal Loan
It might be difficult to secure a loan if you have bad credit.
If you sell the car or it is damaged, you will still owe the loan's full price.
The value of your vehicle will depreciate over time, meaning you will almost certainly lose money against what you originally borrowed.
A loan could be secured against your house, meaning you could lose your home if you fail to pay.
Hire purchase (HP)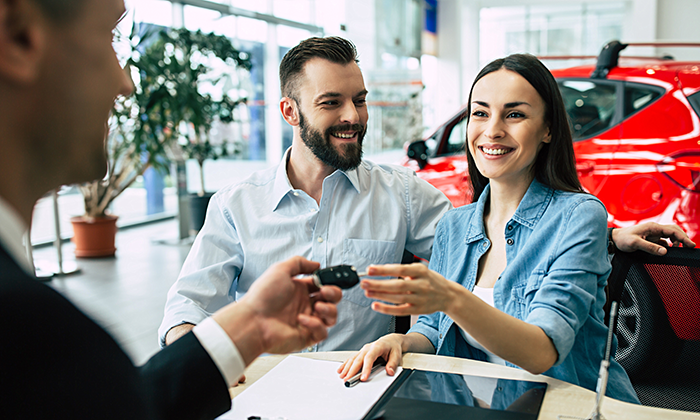 Hire Purchase (HP) is one of the most popular ways to buy a new car. You pay a deposit on the vehicle (usually 10% of its total value) and then pay off the rest in monthly instalments over one-to-five years.
How does it work?
You typically enter a hire purchase agreement with a car dealership. You can agree a repayment term and pay off the remainder of the car's value over this period. You'll owe interest too and the longer your repayment term, the higher the interest.
The loan is secured against your car, which means it will be repossessed if you fail to meet your repayments. Most importantly, you won't own the car until the end of your agreement. This is when you'll have the choice to pay a final 'transfer fee' to own the car outright or return it to the dealership.
Look at the total amount repayable, as your monthly payments will help you see whether this is the best way of financing for a new car. Sometimes the dealer may allow you to return the car and not make any further payments once you've paid off half the cost of your car. This may affect your credit rating, so make sure you understand the terms and conditions before signing the paperwork.
Pros of a Hire Purchase
You'll be able to pay a set amount per month.
You can spread the cost up to five years.
You can choose to purchase your car at the end of your agreement for its remaining cost.
Cons of a Hire Purchase
You won't own the car and won't be able to sell it during the terms of your agreement – unless you repay the hire purchase agreement in full first.
Your car might be repossessed if you can't keep up with repayments.
You may only secure an affordable hire purchase arrangement if you have a good credit history.
Personal Contract Plan (PCP)
An affordable way to finance your car is with a Personal Contract Plan (PCP). These work like a low-cost version of a hire purchase. As with a hire purchase, you'll put down 10% of the car's value and then pay a monthly amount to lease the car for up to five years.
How does it work?
As with a hire purchase, you'll pay a monthly amount to lease your car under a PCP agreement. This includes the option to buy the car with an additional payment at the end of your agreement.
However, in this arrangement, the dealer will base the loan on what they think the car will be worth at the end of your agreement. The amount you pay monthly covers the gap between your 10% deposit and the car's predicted future value.
So, let's say the car's original value was £30,000, but the predicted value after five years was £15,000. You would then only be liable to pay the £12,000 owed difference between the 10% deposit (£3,000) and its predicted value, as well as any additional interest.
You'll then have the choice of handing your car back or buying it outright for any remaining amount owed.
Pros of a Personal Contract Plan
More affordable than some other arrangements.
Often includes maintenance and services from the dealership.
You can hand the car back at the end of your arrangement without it costing you any more money.
Cons of a Personal Contract Plan
You don't own your car outright.
Arrangements usually include strict restrictions on mileage or how often you can use your car.
Your car could end up being worth less than the dealership's predicted value, leaving you out of pocket if you decide to buy the vehicle outright.
You'll be charged for any damage the car incurs during your lease.
Personal Leasing (PCH)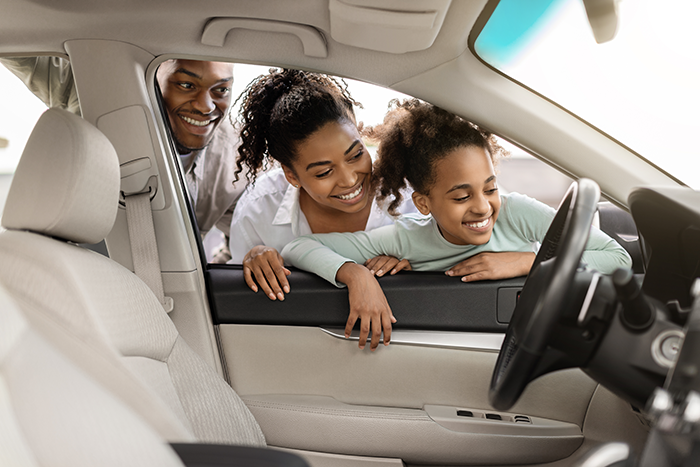 Another way to buy a new car is through a Personal Contract Hire or car lease. As with other dealership contracts, you'll pay an initial deposit on your new car and then follow up with monthly payments to rent the vehicle.
However, the difference with a PCH agreement is that there is no option to buy the car at the end.
How does it work?
You can choose flexible terms from 12-to-36 months, and often you'll find that servicing and maintenance are included. You'll also be protected against your car depreciating in value.
Pros of a Personal Leasing (PCH)
Maintenance and repairs are usually included by the dealership.
There is no expensive payment waiting at the end of your agreement to buy the car outright.
You don't have to worry about the car's depreciating value.
Cons of a Personal Leasing (PCH)
Some PCH agreements are aimed at businesses and don't include VAT (20%) in the advertised price. Make sure you know the full details of your deal before agreeing to anything.
There are limits on when and how often you can use the car.
There's no option to buy the car outright.
The initial deposit can be higher than other, similar car finance options.
The deposit can also be as much as six times the monthly payments.
Cash or savings
If you have the money available, you could buy the car outright with your own cash savings. This gives you immediate access to the car and no monthly payments to worry about – you'll also own your new vehicle from the off.
Another cash alternative is using a 0% credit card. If your seller accepts credit card payments and you can get a big enough credit limit, you could enjoy an interest-free loan for as long as 20 months. You'll also get the added reassurance of credit card purchase protection – which could be useful if you're buying second hand from a dealership. Just make sure you pay off the full amount within the 0% period, or repayments could become very expensive.
Pros of cash or savings
You own the car outright straight away.
No monthly payments to worry about.
No threats of repossession as you'll own the vehicle.
Cons of cash or savings
You'll have to cover the costs of repairs, maintenance and damages.
You'll have to sell the car if you want a new one and your vehicle will likely be worth less than when you bought it.
The initial costs can be expensive and unachievable for most people.
Car finance vs personal loan
Now you know the different car financing options, have a final glance through this summary of the pros and cons to help you make the right decision.
Pros of car finance
May be cheaper.
Dealers are knowledgeable about this specific type of loan.
Repayment terms can be flexible.
With a personal contract purchase you have a choice of what to do at the end of your term.
Cons of car finance
While finance may be cheaper, you will need to pay a deposit.
You won't own the car until the final payment on a HP, or until you pay a final sum with a PCP.
You may be liable for additional charges on a PCP if there's unreasonable wear and tear on the car.
Pros of personal loans
You can shop around for cars within your budget with the money from a personal loan.
You can organise the loan in a way that suits you – over the phone, face-to-face or on the internet.
You can shop around for competitive rates.
The loan can be processed quickly.
Cons of personal loans
You may need to improve your credit rating to be offered an affordable loan.
Monthly repayments could be higher than car finance.
You may be charged a fee if you are able to pay off the loan early.
FAQs
Can I get finance on a motorbike?
Yes, there are motorcycle finance options. The length of the agreement depends on the type of finance, the type of motorcycle and how much you can afford to pay back monthly.
Can you get rejected for car finance?
Yes, in certain instances you may be rejected if your credit score is bad. Accrued debts, missed and late payments on mortgages, credit card or other such financial commitments can contribute to bad credit when it comes to getting car loans.
What can you do if payments on financing for a car are too high?
There are a few options if this becomes the case. These include refinancing, replacing and enquiring about a payment relief.
Read our Know How blog for more on financing life's big decisions.
Share: