With hotels, travel costs and spending money to consider, achieving your dream holiday can be an expensive treat. Holiday loans give you the flexibility to cover the costs with secured or unsecured borrowing.
What is a holiday loan?
A holiday loan is a personal loan used to cover the costs of your dream holiday. If you've been planning a big trip with the family or a cultural adventure, getting a loan for a holiday can accelerate the process and help with any upfront costs.
Whether you choose an unsecured or secured holiday loan, you'll pay off the loan according to a loan plan with a variable or fixed interest rate that you've agreed on. Doing this will help you budget your finances in advance and give you peace of mind.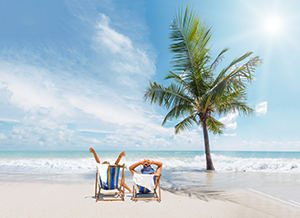 Holiday Loan
Planning that once in a lifetime holiday, or wanting to upgrade your honeymoon to make it that extra bit special? Spread the cost with a holiday loan from Norton Finance.
How do holiday loans work?
The process of applying, receiving and paying off your holiday loan is effectively the same as any other type of personal loan.
Loan application
Consider how much you'd like to borrow — it's important to factor in the biggest costs such as accommodation, transport and spending money for any activities. Once you have an overall figure of your desired borrowing, you can compare rates between lenders to find the best deal for your circumstances.
Getting your holiday loan
After you've chosen your preferred lender, you can apply for a holiday loan. If you are successful, you can agree to the lender's terms outlined in the repayment plan and receive your funds soon after.
Loan repayment
Make sure to stick to the repayment terms outlined in your agreement with the lender. Your account with the lender will only be closed once the repayments have been made in full, along with any interest.
How much does a holiday loan cost?
As with most loans, the overall cost of a holiday loan will depend on a few factors such as:
How much you'd like to borrow
How long you need to make repayments
Interest rate – this is usually given as a percentage (APR)
Research suggests that UK citizens budget an average of £60 spending money per person, per day. This covers things like food, drink and activities. Using your own personal experience and averages, that means you can expect to spend in excess of £400 for a week's holiday. These numbers will vary, depending on your destination and individual needs, so be sure to check up on prices for food, drink and activities beforehand.
Holiday loan example
If you took out a holiday loan for £4,000 and agreed to repay this over 12 months at a representative APR of 9.4%, your monthly repayments would be £350.54. This means that your total amount repayable would be £4,206.48.
Use our handy loan calculator to get a better picture of your individual circumstances for loan repayment.
The advantages of a holiday loan
Funding your trip with a personal loan for a holiday can often be the quickest way to make your dream a reality without having to save over many years. A holiday loan can also be useful if friends or family are getting married abroad and you want the flexibility to explore the destination after the big event.
With a holiday loan, you can spread the cost over a set number of months and can typically borrow more than what's available with a credit card. Repayments also work favourably for your credit score, so you may benefit from better rates in the future if you choose to borrow.
Disadvantages of a holiday loan
The main disadvantage of a holiday loan is that you will be paying off more than you would if just using cash savings. While you may be able to access favourable and low interest repayment terms, you are still taking on debt. Make sure the lending terms you agree to are realistic and account for any other unexpected expenses.
If you struggle to meet the repayments, your credit score will be negatively impacted. Similarly, if you already have a low credit score, finding a good deal or even being accepted for a loan could be difficult.
Secured vs unsecured holiday loans – what's the difference?
The main two types of loan are secured and unsecured. It's important to understand the main differences between the two before applying for your holiday loan.
Secured holiday loan
A secured holiday loan will be secured against an asset – known as collateral – such as your home or car. Secured loans typically allow you to borrow a larger sum and have a longer repayment period. Secured loans can also be useful if you have a poor credit score. It's easier to get holiday loans for bad credit if you choose a secured loan type, but remember that your secured asset will be seized if you fail to make repayments on time.
Unsecured holiday loan
An unsecured holiday loan does not require using a personal asset or collateral as security. This loan type typically has a borrowing limit of £25,000 with higher interest rates but is less risky. Unsecured loans are a good option for holiday loans - providing you have a good credit score.
Secured or unsecured holiday loan?
Depending on your credit score and individual needs, your choice between a secured or unsecured loan is down to you. Find out more about secured and unsecured loans in our loan type guide.
Alternatives to holiday loans
Don't worry if you think a holiday loan isn't for you. If you have the savings available to pay for your holiday, you will benefit from not paying any interest. Another alternative to a holiday loan is a credit card – there are 0% interest credit cards available and many credit card companies offer consumer protection. This can be very useful if your holiday is affected by an unforeseen circumstance such as the airline or travel company you were to use going bankrupt.
Finally, it could be beneficial to get in touch with your travel company directly. Some travel companies offer finance for holidays, so you can pay a deposit and distribute the total cost over a longer time period.
Get closer to your holiday today
FAQs
What is a holiday loan?
A holiday loan is a kind of personal loan which you can use to cover the cost of your holiday, from accommodation to day-to-day spending money. You can agree repayment terms with your lender to find a flexible option to finance your dream holiday.
Are holiday loans worth it?
If you are comfortable that you can consistently make the loan repayments on time, a holiday loan can be a great way to make your dream trip feel closer to home. Keep in mind that failure to keep up with repayments will have a negative impact on your credit score.
Is it hard to get a holiday loan?
Being approved for a personal holiday loan is more likely if you have a good credit score. If you have a poor credit score, you may receive less-favourable interest rates for your loan repayments.
Find out more about loan types and personal finance advice on our Know How page.
Share: