Your credit rating, or credit score, is what lenders use to determine whether they'll lend to you. It affects loan applications, credit cards and mortgages. But working out how credit ratings work and how to improve yours is no easy feat.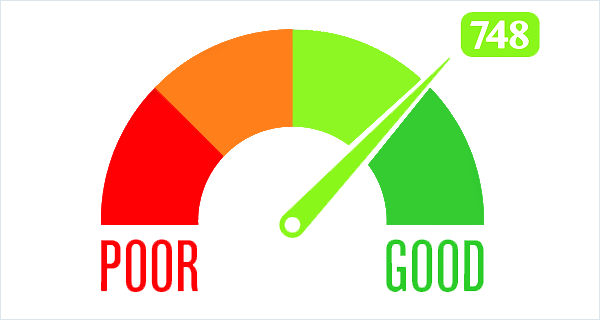 Keeping on top of your finances and maintaining a good credit score means you're more likely to be accepted for credit if you need it.
What is a credit score?
Your credit score is an overview of your financial profile. The result of your credit score check will be a number between 0 and 999 (depending on which credit agency you use).
Lenders will check this score to assess your financial reliability because your credit score reflects how able you are to meet repayments. A higher score means you are more likely to be offered a loan.
Read on to find out what impacts your credit rating and the steps you can take to improve it in our helpful guide.
How to check your credit rating
Take the first step to finding out how to improve your credit score by using one of three UK credit reporting agencies. Experian, TransUnion and Equifax are the main agencies who will compile and assess your credit history to calculate your score.
There are factors which negatively affect your credit score. If you have any County Court Judgements (CCJs), previous defaults or bankruptcy orders, your credit score will have been lowered, because it shows you are more unlikely to meet obligations for loan repayment.
Electoral roll information
Credit agencies run checks against the electoral roll to prove your identity and address. By registering to vote, credit agencies can find your information more easily on the electoral roll. Ensuring you are on the electoral roll can improve your credit rating because credit agencies and lenders will consider you more trustworthy.
Court records
Your court records will be reviewed by credit agencies to help determine your credit score. Any CCJs, bankruptcy orders, small claims court hearings or Individual Voluntary Agreements (IVAs) will be uncovered during this process. Evidence of debt or financial discrepancy will have a negative impact on your credit score.
Linked data
Any previous applications for credit and financial links to other people or parties will be flagged during this search. Credit checks carried out by energy companies will also be uncovered if you have applied for a change of supplier in the past. Provided that no liabilities are found from your linked data checks, your credit score will not be negatively affected.
Account data
Credit agencies will look at full statements to find out information relating to mortgages, energy bills, phone contracts and any loans for six years before the date of the check. During this detailed search, any negative financial history such as defaults or missed payments will be flagged up.
Remember that the credit agency does not make the decision on your loan application. Your credit score is assessed by your potential lender and they make the final decision. To find out what can you do to improve your credit score or take better control of your finances, read up on guidance for ways you can positively adjust your spending habits.
Tips to improve credit score
1. Keep your details up to date
Ensure all your active debit and credit cards are registered to your current name and address. To help keep your credit score up to date, make a list of your outstanding debts and contact lenders to confirm your details.
2. Check your credit file
Looking through your credit file will highlight any outstanding lenders as well as any debts that are incorrectly registered in your name. By keeping lenders up to date on which debts are outstanding, you will improve credit history.
3. Register to vote
Getting on the electoral roll makes it easier for lenders to confirm your identity and address. Not only does registering make you eligible for voting in elections and referendums, it's also one of the quickest ways to improve your credit score.
4. Prioritise your debts
It's crucial to identify the most important loans to repay if you have more than one debt that you are falling behind on. Priority debts could include mortgage/rent payments or utility bills. These should be paid off as soon as possible.
5. Open new credit accounts
Opening a new credit account such as a credit card can improve your credit rating. Remember to consistently stick to your repayment schedule and exercise caution, as opening too many accounts could be seen negatively by lenders.
6. Arrange automatic payments
Prompt repayments significantly improve credit scores. Set up automatic repayments so they are initiated before their due date. This demonstrates to prospective lenders that you are financially savvy and can make regular commitments.
7. Keep your oldest card active
You may be tempted to dispose of existing credit card accounts once they've been paid off. However, keeping your oldest credit card highlights your ability to make regular repayments over a long period which reflects positively on your credit score.
8. Restore your payment record
Improve your credit score by making regular, small purchases on your credit card, such as your food shopping. If you make the repayments on time, your credit score should improve after six months of regular, reliable usage.
9. Stick to your credit limit
Lenders will not take kindly to evidence of you spending more than you earn between monthly paychecks. This may be seen as an inability to make regular loan repayments comfortably.
10. Borrow less than your credit card limit allows
Potential lenders will view how much you have borrowed on your credit card in proportion to what the limit allows. You can improve your credit rating by sticking within 25% of your monthly credit card limit.
FAQs
How long does it take to increase your credit score?
There is no one-size-fits-all answer. Depending on your credit score and your ability to get back on track, it could take from one month to several years to improve your credit score. If you are finding it difficult to stay on track with your repayments, consider a debt consolidation loan to help make repayments more manageable.
Does paying off an overdraft increase your credit score?
Having an overdraft does not impact on your credit score directly. If you are overdrawn within your agreed overdraft limit and are making regular repayments, this can in fact improve your credit score. An unauthorised overdraft exceeding your agreed overdraft limit will be reflected on your credit score as an unpaid debt. Lenders may question your financial trustworthiness for this reason.
Will my credit score improve when defaults drop off?
Defaults are considered a red flag to lenders and will have a negative impact on your credit score. Your credit report will show the default for six years after the date it was registered. The default will remain on your credit report even if you settle the debt within six years. After six years, your credit report will update and your credit score will increase.
Need more tips for improving your credit score? Check out the Norton Finance FAQs page for more information.
Share: